This article, Fezzik, is property of SuBash.
This page, Fezzik, is currently under construction. Please bear with the changes made by the author.
Fezzik
Kanji

フェスジク

Rōmaji

Fesujiku

Alias

Gator

Characteristics

Race

Human

Birthdate

19 May

Gender

Male

Age

30

Height

280 cm (Hybrid)
193 cm (Human)

Eye Color

Green

Hair Color

Black

Unusual Features

Scales

Professional Status

Affiliation
Occupation

Pirate
Carpenter

Previous Occupation

Shipwright

Base of Operations

Revenge

Personal Status

Status

Active

Abilities

Haki

Busoshoku Haki
Kenbunshoku Haki

Devil Fruit

Japanese Name

Wani Wani no Mi

English Name

Crocodile-Crocodile Fruit

Meaning

Crocodile

Type

Zoan
Fezzik (フェスジク Fesujiku) is the carpenter for the Dread Pirates and the one who made the pirate ship Revenge. He is a Crocodile Man who ate the Wani Wani no Mi and got his epithet Gator from it, as he was confused for an Alligator Man. Fezzik was originally from Water 7 in the Grand Line, until his father decided to move to the West Blue. It was back at Water 7 that he obtained his Devil Fruit.
Appearance
Edit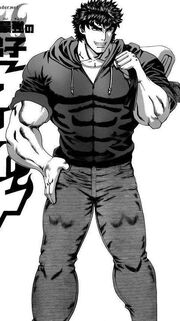 Fezzik is a very large man who has the appearance of a humanoid crocodilian. This appearance comes from his Devil Fruit, which has turned him into a Crocodile Man. After joining the Dread Pirates, and seeing how their captain constantly remains in his hybrid form, Fezzik has decided that he will, for the most part, stay in his hybrid form as well. He mostly just changes back in order to rest. The reason that his hybrid form is so large is because even in his human form, he is still quite a tall and muscular person. Since Zoan Devil Fruits multiply the users strengths in accordance the animal it is based on, Fezzik's large physical strength as a human has resulted in his muscles seemingly bursting from his body. In this form, he his skin is green and he has large scales that appear to be protruding from his skin like spikes. His head appear small for his body and he has very large, dagger-like teeth coming from his mouth. For some reason he has no hair when he is using his hybrid form. Because he doesn't want to destroy his clothes for when he is in his human form, he mostly only wears an undershirt on his torso. Other than that, he'll also wear brown pants held up by a belt and no shoes. He wraps his forearms up in bandages.
In his human form, he is still quite tall and muscular. This strength came from him working as a shipwright since he was a child. He regains his hair when he returns to being a human, which is black and spikey. He will usually wear pretty casual clothes in this form, wearing a hoodie, ordinary pants and shoes.
Personality
Edit
Powers & Abilities
Edit
Physical Capabilities
Edit
Devil Fruit
Edit
Fighting Style
Edit
Fezzik showed no skill at Haki, until he was trained in it by his Captain, Roberts.
Busoshoku Haki:
Kenbunshoku Haki:
Other Skills
Edit
Behind The Scenes
Edit
His appearance is of Killer Croc from Batman: Arkham Asylum.

His human form is of a young Sakaki Shio from History's Strongest Disciple Kenichi.

His name is a reference to the giant in The Princess Bride.
His infobox's text colour is "Crocodile Green", to reference his Devil Fruit.