This page, Flint Gunnarr, is currently under construction. Please bear with the changes made by the author.
Flint Gunnarr
Kanji

グンナー·フリント

Rōmaji

Gun'nā·Furinto

Alias

Flint the Armory

Characteristics

Race

Human

Birthdate

17 November

Gender

Male

Age

17

Height

5'

Weight

150 lbs.

Eye Color

Red

Hair Color

Brown

Unusual Features

Pointed Ears
Snake-like Eyes

Professional Status

Affiliation

Ray Aurelius (Employer)

Occupation

Body Guard

Previous Occupation

Bounty Hunter

Personal Status

Status

Active

Abilities

Weapons

Himself

Devil Fruit

Japanese Name
English Name

Shooter Shooter Fruit

Meaning

Shooter

Type
Flint Gunnarr (グンナー·フリント, Gun'nā·Furinto), aka Flint the Armory (フリント武器庫, Furinto Buki-ko), is a Body Guard in the service of Ray Aurelius on the Grand Line. Before he began working for Aurelius, he was a very successful Bounty Hunter. He ate the Ite Ite no Mi, making him a Gun Man (銃の男, Jū no Otoko).
Appearance
Edit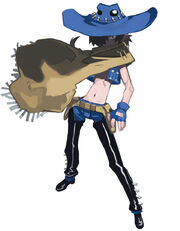 He is a relatively short young man with a considerably scrawny frame, given his line of work. He has light brown hair, which is short, messy and kept long in the back where it is pulled into a ponytail. He also has red, snake-like eyes and remarkably pointed ears, which brings into question what race he really is.
Flint wears black boots, blue jeans, black chaps and a tan belt with two gun holsters on it, though there are never any guns in the holsters. He wears a short blue vest, which has four cannisters strapped to it, and blue fingerless gloves as well as a tan, leather cape. He also wears a blue hat that has two holes in it that look like eyes and has a band of bullet casings that goes around it, which looks like a mouth.
Personality
Edit
Powers and Abilities
Edit
Physical Capabilities
Edit
Devil Fruit
Edit
Flint ate the Ite Ite no Mi, a Paramecia-Class Devil Fruit, making him into a Gun Man that can turn parts of his body into guns and fire at opponents. He is rendered immune to the effects of most projectile weapons, as he can reload with his opponent's ammunition and fire it back at them.
Appearance is based off of the Gunner class from the Disgaea franchise
Flint is a Jewish ornamental name, meaning "shotgun"
Gunnar is an Old Norse name meaning "soldier, warrior"